Orcs of little worth to the clan are relegated to careers of meaningless servitude, physically dragging themselves through days filled with endless drudgery and back-breaking labour.
General Information
Edit
Drudge can be Trained from The Thunderlord's Great hall, and can Repair buildings, however they can't attack and will run away if attacked.

Costs

Stats
Abilities / Upgrades
Brings up a list of the available buildings that you may choose to construct.
Takes Shelter when Danger occurs.
Mines gold from gold mines and harvests Wood from trees.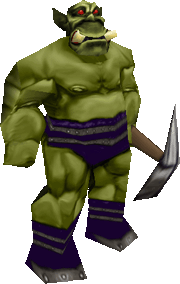 Ad blocker interference detected!
Wikia is a free-to-use site that makes money from advertising. We have a modified experience for viewers using ad blockers

Wikia is not accessible if you've made further modifications. Remove the custom ad blocker rule(s) and the page will load as expected.