Westwood (AKA Westfall) is beautiful and green region of rolling pastures and farms, lies on the Westren Cost of Azeroth, Westwood is a rich agricultural center with many farms and fields, and home to the Biggest Goldmine in the Region which is the Main gold-production center in human lands.
Land Geography
Edit
Westwood is considerd the breadbasket of The Kingdom of Azeroth, The land has the mild temperatures of Elywnn, but winds batter it both from the sea and from eastern Elywnn, Westwood Homes most of the Nation's Farmers and Herders who work daily to on their Lush Fields and taking care of their Cattles. it also Homes the Kingdom's Major Gold-resource and the Towns of Moonbrook and Sentinel Hill Acadamy.
Notable Settlements
Edit
Westwood contains two major human settlements
Wild creatures
Edit
Boars
Crabs
Sharks
Bears
Coyotes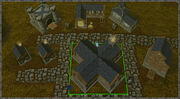 Ad blocker interference detected!
Wikia is a free-to-use site that makes money from advertising. We have a modified experience for viewers using ad blockers

Wikia is not accessible if you've made further modifications. Remove the custom ad blocker rule(s) and the page will load as expected.